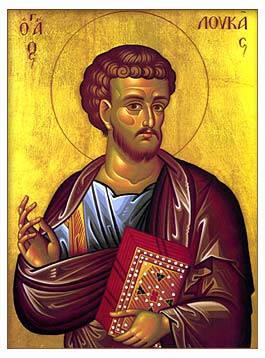 The Saint Luke's Network is a new initiative of the Episcopal Diocese of Georgia to connect health care professionals around the Diocese and beyond, as well as provide health ministry information to clergy, congregations and lay leaders.
This developing network is named for St. Luke, physician and evangelist. Luke (pictured at right in an ancient icon) wrote a Gospel which tells the Good News of Jesus Christ with a particular emphasis on the poor and the outcast.
What you can find on this site:
Congregational Health Ministries- If you're looking for information on how to start a health ministry, either inside the congregation or to the communities at large, a good place to start is our Congregational Health Ministries Section.
Medical Ethics –If you're interested in medical ethics, or need resources on end-of-life care, advance directives, hospice organizations, or other information in this area, check out our Medical Ethics Section.
Pastoral Care-Clergy, lay ministers, and families of patients can find health-related pastoral care information in our Pastoral Care Section.
Rural Health Care-Many of the congregations in the Diocese are located in rural Georgia. You can learn more about the unique aspects of rural health care and see what the health issues are in your community in our Rural Health Care Section.
Health Ministries Blog-Interested in the latest health ministry news in the Diocese or just want to know what's on the mind of your fellow health professionals? Check out and add to the discussion on the Health Ministries Blog.
Questions or Interested in Writing?-Feel free to email us if you have any questions. W e're also looking for health professionals who would be interested in contributing material for this website. Email us at health@georgiaepiscopal.org if interested.